The Lone Star Recycling and Disposal Facility is part of our fully integrated waste services group.  While we provide our customers with roll off containers, compactors, hauling services, recycling and materials processing and disposal, we also offer a full line of construction soils and landscape materials.  Our commitment and dedication to recycling and our environment is equaled only by our commitment to our customer's needs!
We would like to take this opportunity to introduce you to our new product line!
The Lone Star Recycling and Disposal Facility now offers a full line of Mulch, Soil and Compost materials that will provide exceptional benefits to your next construction project or landscape design.  We offer a variety of different material blends to meet the needs of your next project, such as: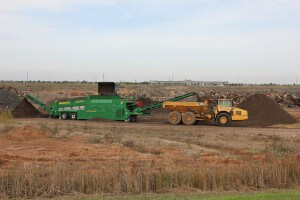 Texas Double G Mulch
Recycled from weathered native trees, Texas Double G Mulch is processed through multiple grindings and then aged to achieve the perfect texture.  Our mulch suppresses weed growth, conserves soil moisture, elevates soil temperature and adds valuable organic content to planting beds.  
Premium Texas Double G Mulch
Our Texas Double G Mulch goes through an extra step and is custom screened to remove fines which results in a Premium native mulch product.  Premium Texas Double G Mulch is perfect as a finishing touch for planting beds and landscaping projects.  
Top Soil
Stripped from the uppermost soil layer, plants generally root in and obtain most of their vital nutrients from Top Soil.  Our Top Soil product is screened to remove coarse material such as larger clay pieces and rocks to obtain a superior quality.  Used as potting soil, for leveling fill, gardens and lawn dressing.
Premium Top Soil
This superior quality top soil is screened for a second time to remove clay pieces, roots, rocks, and provide an even finer product.  Our Premium Top Soil product holds water and nutrients to create and maintain a healthier root zone.
Select Fill
Select Fill is a 60/40 blend of natural clay and sand with plasticity index of between 9 and 20.  This is general purpose sand that contains small amounts of clay.  The mixture of sand and clay makes this material great for building pad construction.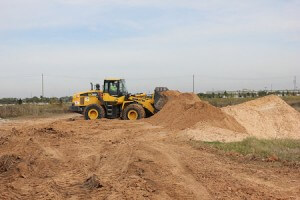 Bank Sand
Natural fine texture sand and clay mix with a few clods.  Bank Sand works well for smoothing lawns and leveling areas prior to concrete.
Premium Bank Sand
Natural fine texture bank sand that has been screened to remove clay clods and to obtain a finer product.  Premium Bank Sand can be used for a variety of uses such as volleyball Courts and in horse training facilities.  
Mixed Soils – Organic Mix
Our Organic Mix is a combination of different soils and ingredients.  It is a blend of aged organics, top soil and bank sand which is then screened to make a fine product.
Potting Mix
Potting Mix is a blend of bank sand and organics screened to get larger clay pieces, rocks and debris out.  It is a fine textured product that greatly increases root growth and has the ability to hold moisture until the plants need it.
Sports Turf
Made from our fine grain sand and blended with compost and/or organics, depending on customer request.  Sports Turf can be used on lawns, soccer and football fields.  It can be easily applied with a lawn or hand spreader. 
Compost 
Our Compost is made from pure organic matter that has been decomposed and recycled into a fertilizer and soil amendment.  We use a multi-step, closely monitored process with measured inputs of water, air, and carbon- and nitrogen-rich materials.  The decomposition process is aided by shredding the plant matter and ensuring proper aeration by regularly turning the mixture.  Compost is a key ingredient in organic gardening, healthy lawns and plantings.  
Prices vary depending on volume.  We offer material delivery service or we can load your own vehicles.   
Contact us today so we can show you how the Lone Star Recycling and Disposal Facility is the logical choice for construction soils and landscape materials for your next project!